Xenoblade Chronicles 2
We'd already had an announcement of a new
Xenoblade
game hitting Switch this year, but we had no solid details on the game and it seemed unlikely it'd actually squeeze into a release this year. Dashing any of those negative expectations, though, Nintendo's confirmed that
Xenoblade Chronicles 2
will indeed be launching on the Nintendo Switch this holiday season. Featuring a new anime-like art style, the game looks very different to previous
Xenoblade
games. The combat, however, maintains the same sort of real-time action that the series has featured since the original Wii game. 
Xenoblade
will provide a huge amount of depth for a game released so soon after the Switch's release, so it's a big win for Nintendo to get this out this year.
Kirby
Currently called simply '
Kirby
', this new game for the Switch won't actually be out until next year. Featuring some classic
Kirby
platforming in what feels like the first time in a while, the game also introduces the ability to recruit enemies to assist you and to launch off combo attacks with. You can also team up with three friends for some shared screen co-op action.
Yoshi
Also simply just called '
Yoshi
' for now, this game follows on in a similar style to
Yarn Yoshi
, but seems to focus more on a general arts-and-crafts feel to both
Yoshi
and the game world. The game does continue to feature the classic
Yoshi
style gameplay first introduced in
Yoshi's Island
, though. It's a delightful looking and extremely tactile looking game – much like
Yarn Yoshi
was. One thing is for sure – the Switch is definitely showing itself to be very competitive when it comes to these kind of vibrant visuals.
Fire Emblem Warriors
Confirming an Autumn release this year, the latest look at
Fire Emblem Warriors
revealed a familiar kind of game play to anyone that's played either a
Dynasty Warriors
game or Nintendo's previous collaboration with Tecmo,
Hyrule Warriors
. Visually, the anime-styled visuals for the game look amazing. The
Fire Emblem
cast is perfectly rendered in a way that's both faithful to their overall 2D appearance in the Fire Emblem games as well as fitting in with the high octane action of the Warriors game itself.
Hyrule Warriors
ended up having a fair amount of depth and a lot of fan-bait content to unlock. We're optimistic that
Fire Emblem Warriors
will be as similarly deep for fans of that series. If Nintendo and Tecmo could see fit to squeeze in a Link cameo in the game, I think we'd all be a little bit happier in ours lives as well…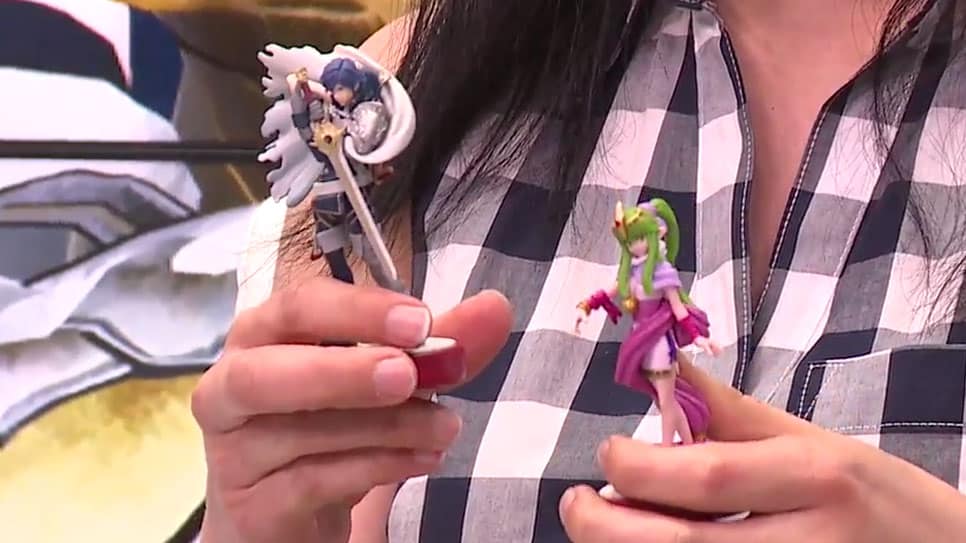 One additional bit of news we got from the Treehouse playthrough of the game later on was that there will be two new
Fire Emblem
amiibo released for the game. As well as supporting existing
Fire Emblem
amiibo, new amiibo for Chrom and Tiki will be released. Though we currently don't know what impact the amiibo will have on the game, it can probably be assumed that it will be similar to
Hyrule Warriors'
 daily weapon unlocks.
Metroid Returns
Details were scant, but the logo was all that was necessary. After years of speculation, a new
Metroid Prime
game is finally on the way. Retro Studios will not be developing this game, as they have for the previous
Metroid Prime
games, but Kensuke Tanabe, the producer of the original games is leading the development of the game under a new Nintendo studio. We don't expect to be seeing anything about the new
Metroid Prime
before next year, but it wasn't the only
Metroid
project announced today.
Samus Returns
'Re-imagining' the GameBoy classic
Metroid 2: Return of Samus
, is a new 3DS game
Metroid: Samus Returns
. Hitting the shelves as soon as the 15th September, this is classic 2D
Metroid
action. The original GameBoy game hasn't received as much love as the NES or SNES iterations of the game over the years, but this is the most in-depth remake of a
Metroid
game in years. They're specifically calling it a 're-imagining' specifically because the game features a number of new features over the GameBoy original. That includes the ability to detect destructible blocks, a minor shield and even amiibo support. As well as supporting the existing
Smash
amiibo for Samus and Zero Suit Samus, there will be two fantastic looking new amiibo for the game: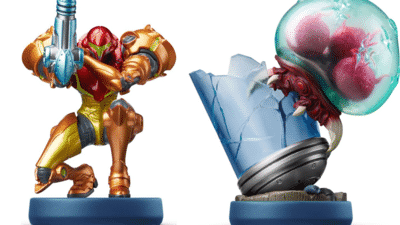 The Metroid amiibo features a unique squishy membrane that will make it pretty impossible to stop fiddling with, while Samus has a really glossy finish on her armour to make her stand out against her Smash amiibo with its matte paint job. Both amiibo are due out with the game in September.
Rocket League joins the party
The surprise indie hit,
Rocket League
, is officially coming to Nintendo Switch. As well as some Switch exclusive content, including a Mario hat for your car, the game will also feature cross-network play with Xbox One and Steam players. Sadly, Sony continues to not play ball in terms of cross-play, so Playstation owners will not be able to join in. The Switch version of the game is set for release at the end of this year/early next year.
Pokemon is coming to the Switch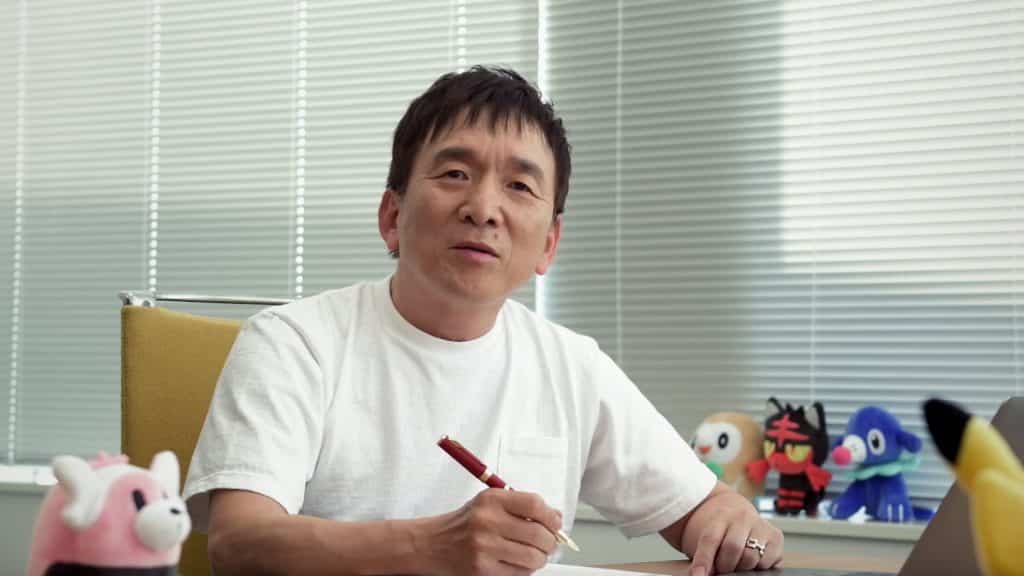 It barely really counts as an announcement, after all we all knew it was coming anyway. But, Tsunekazu Ishihara, the President of The Pokemon Company, showed up on Nintendo's stream to both pay lip service to
Pokken Tournament DX's
release on the 22nd September as well as point out that GameFreak were currently working on a 'core'
Pokemon
game for the Switch. He did point out that the game would be at least a year away, which seems to finally put paid to any likelihood of the much-reported
Pokemon Stars
coming to fruition. Most likely, this new game on the Nintendo Switch will be an entirely new Generation of
Pokemon
games. It will definitely be one of the most anticipated releases on the platform as we trundle towards its inevitable release, though.
Breath of the Wild DLC detailed
As well as seeing in more detail what's coming up in this summer's first DLC pack for
Breath of the Wild
, we also learned our first details about what's coming in the second pack towards the end of this year. '
The Champions Ballad
' will include a brand new story adventure, seemingly set in Hyrule's past prior to the events that lead to Link's 100 year nap. Both DLC packs are available through the game's season pass or separately as they release. The first pack, '
Master Trials
', will be out at the end of this month – 30th June – and includes some new challenges such as
Trial of the Sword
– which will power up your Master Sword for completing it – new armours and some quality of life features to make completing the game a bit easier, such as a mask to help find one of the 900 Koroks hidden throughout Hyrule.
An in-depth look at Super Mario Odyssey
Hitting the shelves on the 27th October,
Super Mario Odyssey
threatens to be as much of a definitive version of 3D
Mario
titles as
Breath of the Wild
was for
Zelda
. The game's central feature of using
Mario's
now-sentient cap to possess not only people, but creatures, enemies and even inanimate objects promises to fundamentally change the way you approach playing a 3D Mario platformer. On top of all of that, though, there are even features such as 2D platforming sections that borrow a lot of inspiration from
A Link Between Worlds. 
If
Breath of the Wild
looks likely to topple
Ocarina of Time
was best
Zelda
ever, there's a solid chance that
Super Mario Odyssey
could do the same for
Super Mario 64
very soon.
Overall Verdict?
Nintendo's showing this year was very much just about clarifying what to expect on the Switch later this year – including the Rabbids XCOM-style crossover coming in a couple of months. But beyond that, with reassurances from Ishihara-san about a main series
Pokemon
game, teases of a new
Kirby
and
Yoshi
and simply dropping the name of
Metroid Prime 4
, the bulk of Nintendo's show seemed to be a big pitch for their incoming support for the platform in the near future. It's a positive sign given the issues the Wii U had, both in software support from Nintendo early on, as well as from third parties. There continues to be a bit of a hesitant pause from third parties about really diving into the Switch, though, and that was also clear in tonight's presentation. The Switch continues to be on an extremely positive trajectory, so it's not something to be too worried about at this stage. But, really, Nintendo needs to start delivering on wider support from other publishers next E3. They've effectively gotten a free pass this year based on the quality of their own output – but even
Zelda
,
Mario
and
Pokemon
won't be enough to maintain the console indefinitely.
As what is now the norm for Nintendo, they did not hold an actual E3 conference this year. Instead we had a 20 minute Nintendo Direct focusing primarily on clarifying some details on the Switch's holiday line up. There were some new details and some game reveals, though, so here's our final E3 roundup of just what Nintendo has brought this year.