Despite an embarrassing false start a few years ago with OnLive, Netflix-style Game Streaming is suddenly back and in a big way. Between Google Stadia and Microsoft's XCloud project – now officially combined with the runaway success of GamePass – the reality of true console-level gaming experiences on your phone has never been closer. There's just one pretty colossal problem: you definitely can't get that experience without actual buttons.
The Razer Kishi is one of a few options available alongside the public release of Game Pass streaming on the 15th September that can solve that problem – but exactly what is the Kishi and is it the best of those choices?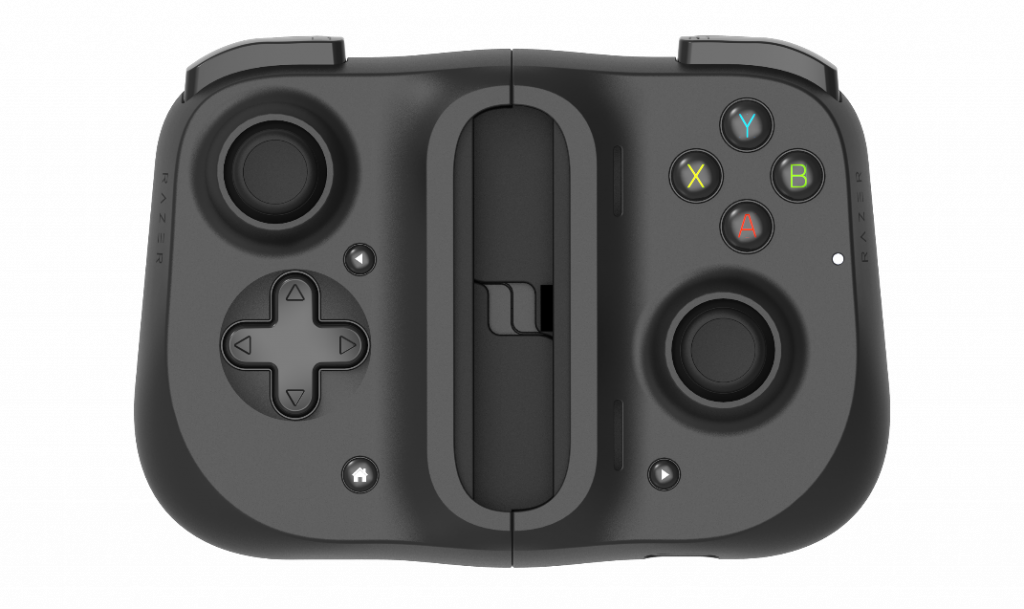 For most Game Pass subscribers, the quickest and easiest way to try out the new game streaming feature will be to use their existing Bluetooth-capable Xbox controller. Clips to physically attach the controller to your phone can be bought online for anywhere between £5 and £60 and, once you've set it all up, it works identically to using the same controller on an actual Xbox.
The Kishi has several key differentiators that improve this experience overall. Firstly, rather than Bluetooth, it plugs directly into the phone's USB-C port. This trivialises the set-up process down to merely opening up the controller's collapsible back and inserting your phone. No pairing and no batteries. In fact, with a USB-C passthrough port on the bottom, you can easily plug in your charger to keep your phone fed with juice while playing.
This also eliminates almost all of the input lag that you might suffer with from Bluetooth controllers. Usually, this isn't that big a deal, but it can add up when using a game streaming service such as Game Pass, so it's a huge positive in this case.
With a relatively low profile when collapsed, it's also much more portable than carrying an Xbox controller and a phone clip around with you. You can even just about get away with having it around in a spare pocket – though maybe not if you're into skinny jeans.
Once in action, you can take advantage of Android's native controller support to load up your game or streaming service of choice. Though your phone probably will want to stay in portrait mode on the home screen by default (changing this in the settings might depend on your phone but it'll be in there and would be worth tweaking to spare your neck). Any game with Bluetooth controller support – such as the Christian Whitehead remakes of the classic Sonic games – will work flawlessly without additional configuration. As will most emulators, including Retroarch, so you can stuff your SD card full of ROMs and turn your phone into a Nintendo-rivalling handheld console packed full of classic games… not that we would ever condone such a thing…
But best of all is the full support for game streaming on Xbox Game Pass. With a full complement of buttons to match a standard Xbox controller, the combination of Game Pass and the Kishi basically turns your phone into a portable Xbox One, with an experience that comes close to rivalling the Switch.
A lot of this comes down to how well Game Pass itself works. But, in replicating the form factor of the Switch in handheld mode, using the Kishi feels a lot more comfortable to play for extended periods than a phone clipped onto an Xbox controller. The weight is better distributed, the phone is angled better, you can relax your arms a lot more, and the controller itself is much lighter so you can comfortably hold it – even with the phone attached – in one hand. It's as close as you can get to playing on a Switch, without playing on a Switch.
The only thing that lets the Kishi down, both in comparison to an Xbox controller and to the Nintendo Switch, is that the buttons themselves are definitely not up to Microsoft or Nintendo's standards. The four main face buttons are considerably more spongey, while the Home, Start and Back buttons are stiff and clicky. The d-pad is as spongey as the face buttons, but the four main directions feel defined well enough that it gets by as "good enough". Similarly, the rear bumper buttons and triggers are functional, but leave a lot to be desired.
Compared to cheap Bluetooth controllers churned out by companies you've never heard of, the Kishi is still a substantial improvement overall. But the 'cheap' plasticky feeling of the overall case and buttons is disappointing for a product that is very much not cheap at £80-£100 depending on which of the two versions you pick up.
Although an Xbox branded edition of the Razer Kishi was announced alongside the news that game streaming was coming to Game Pass, the Kishi has actually been available since June, and by dodging the Xbox logo on the controller, you'll save yourself £20. On the branded version, the Home button is replaced by an Xbox button that can launch you orderly into the Game Pass app, but the controller is otherwise totally identical to the standard Kishi.
Although we've focused on Game Pass, the Kishi does also work well with other streaming services such as Steam Link, GeForce Now and Parsec since they all respond well to the native Android game controller support. However, despite both being Google products, Stadia's Android launcher doesn't have native gamepad support at all. Once you've chosen and launched a game, it seems to work fine at least, but it's a bizarre oversight that seems emblematic of Stadia's overall problems.
One final flaw that you might have realised given its conspicuous absence by now is that the Kishi obviously does not work with the iPhone. Pretty much any modern Android phone should fit within its stretchy expandable form – although Razer's own phones require ordering and fitting custom insert 'grips' because of its unusual square edges.
An iOS version with a lightning adapter is still planned – and iOS 13+ does also have native gamepad support. But, with Apple having blocked Stadia and Game Pass from the App Store, we may have to wait for the outcome of the Epic vs Apple case before Razer sees any point in continuing with that release. Update 15/09/20: Good news, Apple fans! The iPhone version of the Kishi is coming on the 22nd September! No sign of Stadia or Game Pass just yet though… 
If you're a Game Pass Ultimate subscriber looking to take full advantage of the addition of game streaming, the Razer Kishi is probably the most expensive way to do so, but also probably the best choice. Having a dedicated way to play, that you can keep handy and – best of all – get a pretty similar experience to playing on a Switch outweighs the slightly disappointing inputs. It effectively transforms a novelty into a genuine gaming option and is as close as we're likely to come to a fully portable Xbox.
The Review
Razer Kishi
A touch expensive and with slightly disappointing input quality, this is otherwise the best way to get a Nintendo Switch-style experience with nothing more than your existing Android phone.
PROS
Play experience is just like using a Switch
Light, compact and easily portable
"Just works" and has plenty of compatibility with games and apps across Android
Perfect companion for Game Pass streaming
CONS
Inputs are a bit spongey and not as good as official controllers
Has a plasticky feel that doesn't quite align to the high price
The price is high and there's a £20 surcharge for an Xbox logo
Review Breakdown
Build quality

Functionality

Compatibility

Price