If you've eyed up, from afar, the Pokémon Sword & Shield demo available at shows like EGX, or the London Pokémon Center and felt unimpressed by how much of an incredibly basic Pokémon experience it seemed to show, you're definitely not alone. That's precisely the view I carried with me into my opportunity to play the demo when we were invited to visit the Pokémon Center last week.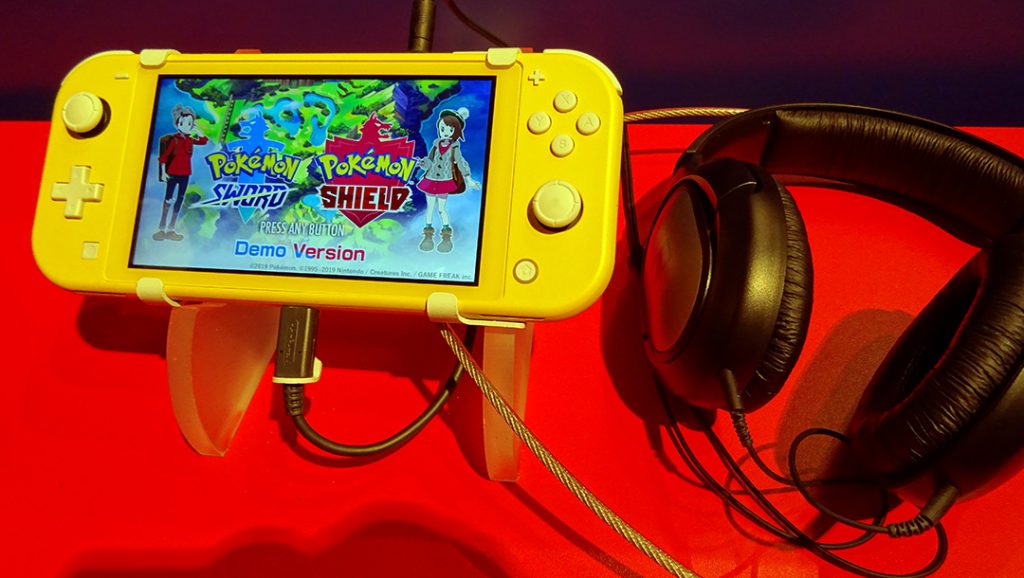 As it happens, though, even this short and simple slice of the upcoming games delivers a surprising leap in the experience of playing a Pokémon game. We're just weeks away from the release of the games, but here's our report on a demo that took me straight from "meh" to "hype" by the end of it's short, 5-minute time-locked duration.
Set exclusively within the new region's Water type Gym, the demo itself is quite basic. As we've seen in many other Pokémon games, before challenging the Gym Leader, first we must get to them by completing a series of puzzles. While there are vague promises of a variety of different types of these challenges, the one featured here is pretty familiar. 
Blocking your path are huge pipes of water gushing down a torrent through the elevated platforms into God-knows-what below. Each pipe is colour-coded to a switch: Red, Blue and Yellow (hmm) that will toggle the water on or off. The trick here is to make sure the right colour is left on behind you so that one of the others is off ahead and you can progress. It's easy enough that you could potentially get it all right first try, but probably more by luck than anything else. Chances are you'll need to backtrack at least once.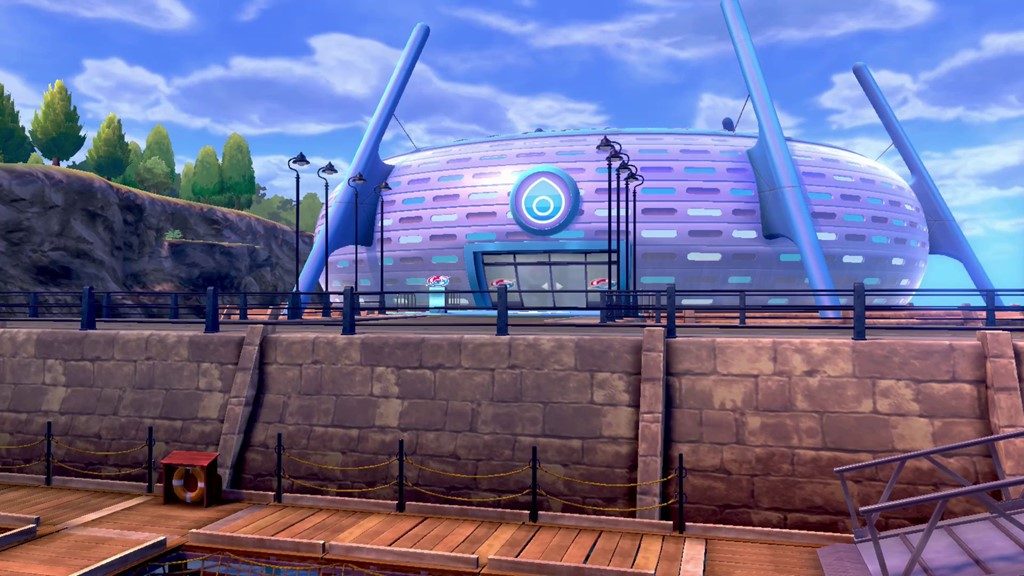 The blockade, of course, is only really designed to direct you towards having to fight the several trainers that line your path. Naturally, this is where the demo actually shines. Everything about the Pokémon battles in this game is a very welcome step up from Ultra Sun & Ultra Moon. There's an incredibly brief fade between the main overworld gameplay and the anime-style introduction of both your character and the opposing trainer, but then the game cuts to just showing the opposing trainer as they send out their Pokémon and start the battle. As well as making battles much quicker to jump into, it's also our first real taste of Sword & Shield's much more anime aesthetic. 
While Pokémon battles themselves are exactly as you'd by now expect, there's no question that a lot of effort has gone into making them seem a lot more dynamic this time around. The camera appears to be a lot closer to your Pokémon, and there are a lot more camera cuts and effects alongside the move animations. Even in comparison to Let's Go Pikachu & Eevee, everything moves at a much faster pace, in a much more exciting way.
But it's the Gym battles themselves that excel here. Set in a massive stadium, surrounded by the cheers of the hundreds filling the stands, you'll first start your match in a dug-out tunnel before running out into the stadium itself and triggering a short cut-scene.
In previous games, the Gym battles have often seemed somewhat anticlimactic. By the time you reach the Gym Leader, you'll get a line or two of dialogue; you'll battle them, get another line of dialogue and then your reward. In Galar, though, these battles are events. You and your opponent march out into the centre of the arena to face each other under the glare of hundreds of spotlights. The Gym Leader, Nessa, introduces herself in a fully-directed and animated scene. You both back away to the lines that represent your intended positions on the battlefield, and then, immediately, the battle begins.
There's no fading to black; there's no jump to a special battle scene, you simply get right into it with both of you sending out your first Pokémon as, effectively, part of the cut-scene itself. After sending out your Pokémon, Nessa then still has further dialogue – again, entirely directed and animated – and then you'll get your chance to take your first shot.
In Gym matches, the camera is even more active, because it's actually a Rotom possessing a camera drone. It will swing in and out of the action and will even cut to scenes of random NPCs in the cheering crowd while awaiting your decisions.
Things kick up into an even higher gear once you've defeated Nessa's first Pokémon, Goldeen. When forced to use Drednaw, her star Pokémon and one of the new Pokémon introduced in Sword & Shield, the camera again quick cuts back to an animated scene of Nessa activating Pokémon's latest battling gimmick: Dynamaxing.

The intensity that Dynamaxing brings to battles in Sword & Shield can't really be overstated. Visually – especially on a big screen – the image of this enormous Pokémon growing right behind their trainer is immense enough, but it's the audio that really sells it. We were fortunate enough to try the game on the Switch Lite with headphones and can absolutely tell you that the best way to play these games is either with headphones or an excellent sound system. Registering at about 100 decibels louder than the rest of the game, the cry of a Pokémon once Dynamaxed will be impossible to miss if you ever spot anyone playing their Switch out and about after November. During the three turns a Pokémon can remain Dynamaxed, there's also a loud and intense rumble to go along with the otherworldly purple storm surrounding them.
Dynamax also changes all of a Pokémon's moves into special 'Max' moves determined by the type of the original attack. Most of which also come with some sort of special effect such as the electric attack Max Lightning triggering the battlefield effect Electric Terrain for five turns, or Max Darkness lowering the opponent's Special Defence stat.
While none of the Pokémon in the demo were capable of it, there's also another quirk, called Gigantimaxing, where as well as changing form, these Pokémon will also have unique 'Max' moves to choose from. In the final game, these Pokémon will be available via co-operative multiplayer Max Raids in the open-world Wild Area, or as bonuses for having save data for Let's Go Pikachu & Eevee on your Switch, among other special methods.
As you might expect for super-powerful moves being unleashed by monsters the size of a football stadium, they are as spectacular to behold as they are damaging. The massive increase in power also makes these fights into genuine challenges, even if you've been playing the games for 20 years or more. If your Pokémon isn't Dynamaxed, but your opponent is, no amount of super-effective attacks are going to be enough to breeze through these fights. Even with both sides at full power, One Hit KO's seem just as unlikely – at least with the team we had on hand here.
What Dynamax therefore does, is effectively introducing an actual boss-fight mechanic into the series at long last. Once you've memorised the Pokémon type chart, most Gym battles have traditionally been as simple as using the super-effective Pokémon to one-shot each of the Leader's Pokémon. Here, with the threat of Dynamax hanging over your head, you'll have to think about a lot more than merely which type is best. Effective strategies will come from determining the best use of your own three turns of Dynamaxing one of your Pokémon and how best to handle – perhaps even just survive – the three turns of your opponent's maximum power.
So, everything is much bigger, much more dynamic and, just generally better. At its core, of course, it's still very much a Pokémon game. But, Sword & Shield are games that are clearly aware that as well as playing it on a Switch Lite on a bus, a lot of players will be playing on 4K Televisions in their living room. As the first proper main series Pokémon 'console' game – one that's built around that concept anyway – there's a lot on show in just this demo of how Game Freak is bringing a lot more detail and style to the series for its real big-screen debut.
What's underneath may be very much "more of the same", but Sword & Shield promises to be a lot more besides. A much more animated and engaging adventure in a much more extensive, more open, Pokémon world. Hopefully, the games will live up to that promise come the 15th of November.