Buy/Download Littlewood (Nintendo Switch)
With everything just happening so much these days thanks to The Situation, I don't think I've ever valued more the ability to disappear into the bedroom for an early night – Nintendo Switch in hand – and to just while away the hours before bedtime with a pleasant, relaxing 'village-em-up' style game. Thankfully, the release of Littlewood onto the eShop this week (in North America at least – there's a slight hold up with the European release though we're assured it's on the way ASAP!) has helped offer plenty of excuses for exactly that lately.
Set in the world of 'Solemn', you take on a classic JRPG hero's role with a unique twist. You won't be spending your time levelling up your fighting or magic abilities to save the world – because, as it turns out, you already did all that before the game even began. Rather, it's up to you to rebuild the village of Littlewood (or whatever you decide to call it) and try your hand at a wee bit of farming, mining and chopping down some trees instead.
Taking heavy inspiration from both Animal Crossing and Stardew Valley, Littlewood certainly ticks many of each's feature-list boxes. A cast of characters you can get to know a bit better as they settle into your town; plenty of farming, crafting and gathering options to make some cash; a museum to show off all the bugs, fish and whatever else you pick up along the way; and plenty of furniture you can use to doll up yours and your neighbours' houses.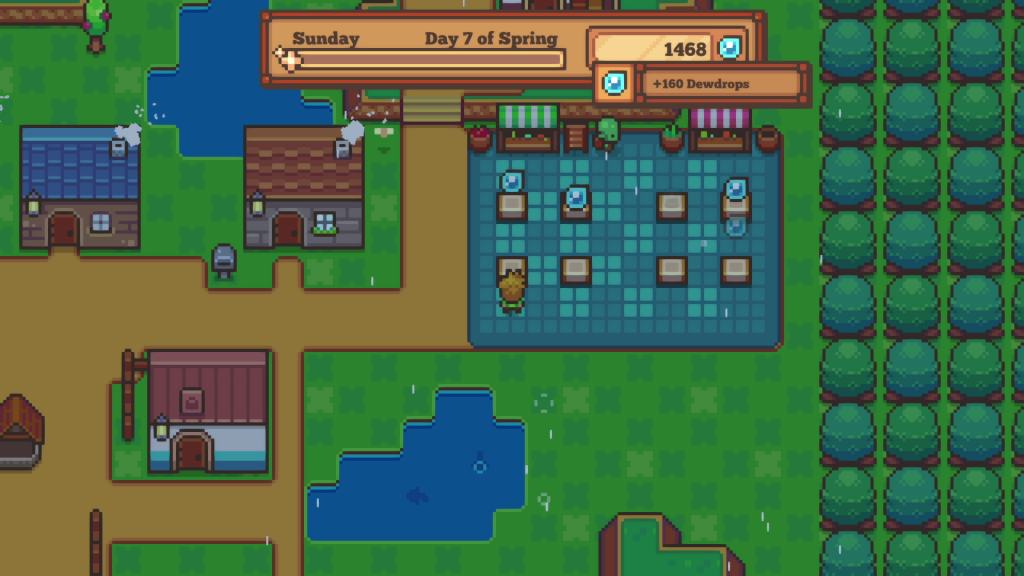 If you've played either or both of those games, you'll find plenty of familiar equivalents here in Littlewood. In a sense, it helps get up to speed with what Littlewood is all about quickly. But the comparison against two genuine industry juggernauts is always going to be a tough one for any independent developer to live up to – and it's fair to say, Littlewood isn't winning this fight.
There are some reasonably unique twists on well-worn features, at least. For each new member of your village's community, you'll have to not only build them a home but kit it out too. A wishlist they'll fill in – once you produce a desk to make it with – gives some clear structure in how to please your new friends, but if you want to ignore it and put up a grotty looking wallpaper you found in a bin all over their house instead, you're more than free to. You also get total control over your village's landscaping and design from the very beginning, so you really can make it yours.
However, there isn't quite the same engrossing hook to the central farming/crafting/gathering aspect as in Stardew Valley, which is probably Littlewood's weakest point in comparison.
Farming itself is almost an afterthought – gatekept from you in several ways throughout the early game and far from the best way to make money. While this might seem like it'd help drive comparisons away from The Valley Game, instead, it just exposes the weaknesses in how you otherwise gather your required resources. The focus shifts from your burgeoning town's management and growth to mostly grinding out your daily stamina in the distant procedural Woods or Mines.
With the rest of your progression being entirely tied to grinding out the same actions, again and again, to level them up overnight, there isn't that same "I just need to play one more in-game day, so I can finish up what I wanted to do tonight" loop that will keep you up to 3 am when playing the Esteemed Competition.
As for how well it's made the leap from Steam to Switch, there's mostly good and a little bad news. The good is that it looks nice and sharp, runs at a solid framerate, and it's hard not to enjoy the bright, cartoony visuals.
Unfortunately, while the main character controls are fine (although it'd be nice to be able to customise them – 'B' is certainly not a natural menu button for me), the build controls are almost unusable in the current console build.
A single tap of the d-pad buttons will send your cursor flying several grid 'tiles' away, so even the most basic tasks of placing some tilled soil or new buildings are made incredibly frustrating. It's a particular let down given the otherwise refreshing freedom you have in being able to sculpt your town's landscape right from the off.
Despite the unfavourable comparisons to its obvious inspirations, where Littlewood focuses on its own, unique content – such as its character interactions, the intriguing conceit of its post-JRPG world and an interesting breadth of in-game locations – it sets up plenty of good hooks to try and catch your interest.
It's just a pity that they are mostly just hooks and never quite deliver on their full potential. The available townsfolk cast is relatively small, and the worldbuilding ends up used more to justify its fantasy setting than anything else. If there were just a bit more meat on these bones, it would stand up a lot better to its much bigger cousins.
As it is, though, Littlewood stands just a little too close to Stardew Valley and Animal Crossing's shadows to be able to truly stand out on its own.
A review copy for this game was provided on behalf of the developer.
The Review
Littlewood (Nintendo Switch)
A cute village life sim with an interesting story-based twist - even if it doesn't quite go far enough to step out of the shadow of the games that inspired it.
PROS
Great, clean visual style
Relaxing gameplay
Plenty of ways to make your village truly your own
CONS
Kinda misses a trick with the JRPG hero setting
Majority of gameplay doesn't quite live up to the games that inspired it
Poor build mode controls
Review Breakdown
Graphics

Gameplay

Audio

Value for money
Buy/Download Littlewood (Nintendo Switch)
Best Price
£14.99
Sometimes we include links to online/app stores to buy and download the games we're reviewing. Purchasing a game through these some of these links may mean we receive a (very) small commission. These are never taken into consideration within the review itself. Please see our editorial policy for more information.
Review Policy
Our reviews are subjective opinions on a game made by the author. Please take these scores as a general guide that simply sums up their feelings and very much feel free to disagree (politely) below!.
For more information on our review policy, please click here.