A mobile phone style contract service for Xbox is launching in the UK on the 5th November. Originally introduced in the United States some years ago as a way to pay monthly for an Xbox 360, with Xbox Live Gold included, this will be the first time Microsoft has offered a similar service in the UK. This time, the promise of Game Pass and an upgrade offer to Microsoft's next console are also being added to sweeten the deal.
From £17.99 a month, you can receive an Xbox One S All-Digital console, with 24 months of Game Pass Ultimate – the combined Game Pass and Xbox Live Gold subscription – as well as the option to upgrade straight to Xbox's next console, codenamed Scarlett.
An Xbox One S with a disc drive is available for £19.99 a month, while the more powerful Xbox One X is £24.99 a month. To upgrade to Scarlett from the Xbox One S bundles, you'll need to wait until you've completed at least 18 months of your monthly payment contract. The Xbox One X bundle, meanwhile, will allow you to upgrade to Scarlett after just 12 months – much closer to its expected release window of about this time next year – so long as you join before the end of December 2019.
The cheapest, all-digital bundle will also require a £15 upgrade fee to make the leap to Scarlett. Upgrading to Microsoft's latest console would also mean a new contract with new prices for its monthly payments.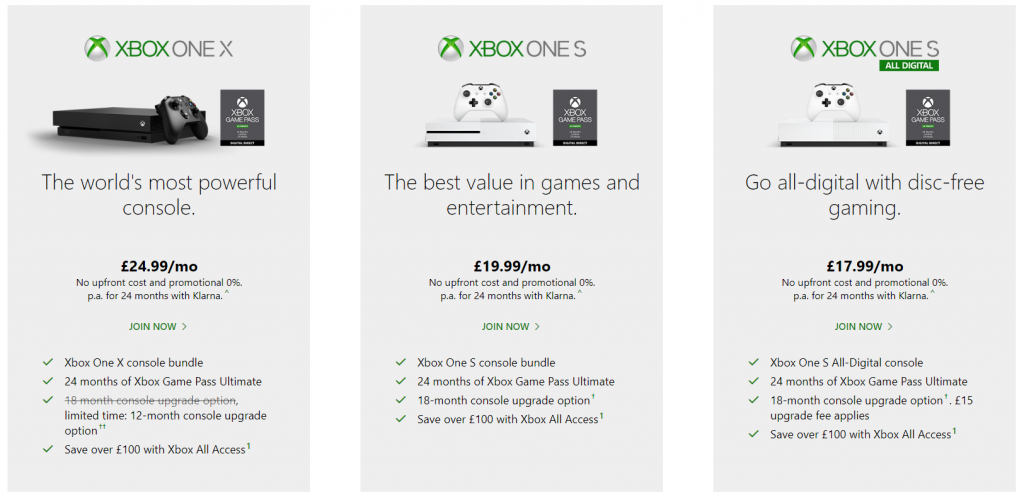 The offer is available at both Smyths and GAME, and with the value of Game Pass alone right now, it sounds like a pretty solid deal. Combining the value of the consoles themselves with the two-year Game Pass Ultimate sub is, effectively, a saving of over £100. Though with the amount of offers Microsoft has launched to build up Game Pass Ultimate subscription time for a lot less than its actual price, that's a somewhat academic saving.
The promise of the service being available as a purchase option for Xbox's new console, Scarlett, however, might be music to many people's ears. Speculation, based on what we know about the capabilities of both Microsoft and Sony's new consoles, pegs the PS5 and Scarlett prices at even higher than Xbox One X's £449.99 RRP. Full details, including how to sign up, are available on Xbox.com.
As well as the UK, the same service will also be rolling out across the United States and Australia over the coming weeks. Full details on the International rollout are available here.