Where to Watch?
Sony's conference is being livestreamed on their
Twitch
and
Youtube
channels from 2am BST 13th June – or 6PM 12th June local Pacific time.
What do we already know?
At the start of the year, Sony released a sizzle reel of all the games announced for this year and even a little beyond. Some of those, such as
Horizon Zero Dawn
,
Gravity Rush 2
and
Persona 5
have now come and gone, but still to come are big names like the standalone
Uncharted
adventure,
Gran Turismo Sport
, Quantic Dream's 
Detroit: Become Human
, 
Matterfall
and
Knack 2.
We expect to see more from all of these games at Sony's show tonight.
Insomniac's Spider-Man
The reveal of a new
Spider-Man
game, developed by Insomniac Studios, was one of the standout reveals in last year's E3 showcase. While DC's had huge success with the
Batman Arkham
games, Marvel's had much less success in translating their properties to AAA video games. Insomniac, however, are a team you can rely on to give you the kind of Spider-Man action that was originally put to such great effect in the video game adaption of
Spider-Man 2
, as well as a cinematic story to finally rival the
Arkham
series. The
Spider-Man
game marks a new renewal in Marvel's video game efforts, and even supposedly kicks off a new 'Video Game Universe' to rival their Cinematic Universe. The legal situation with the
Spider-Man
license means that Sony have exclusive rights to publishing this game, but we could be seeing a lot more from Marvel on this front in the near future.
God of War
Sony's new
God of War
was revealed to the world last year by introducing us to a bearded Kratos and what seemed to be his child. Promising to put a brand new pantheon before us to slaughter, the new God of War is looking like a wide reinvention of the series in terms of style and tone, but with plenty of solid, over the shoulder action to go with it. We already know that Sony will be going big on the details of this new
God of War
this year, but will it make it out this year?
The Last of Us 2
One of the most critically acclaimed games on the PS3, a sequel to this game has been hotly anticipated since even long before it was announced last year. The game takes place 5 years after the first game, and returns to Ellie and Joel's story, with players taking control of Ellie this time. Given the hard decisions made in the last game and that this game's central theme is supposedly 'hate', could we be seeing a much darker tone to this game's story?
Days Gone
Days Gone
was a visually impressive reveal at last year's E3, but the substance of the game – another open world zombie game was a bit uninspiring to say the least. Will Sony be able to move beyond that central pitch to find a more unique and compelling sell for the game this year?
Death Stranding
Death Stranding
is Hideo Kojima's big comeback following the fallout of the collapse of his relationship with Konami. We're sure to see more of the amazing looking visuals of this game in action – as well as probably even more Norman Reedus and Mads Mikkelsen – but whether we'll ever actually figure out what on earth the game actually 
is
may be an answer we'll have to wait a bit longer for.
What might we expect?
Hopefully one thing we can hopefully expect is a bit of love for the PSVR. Sony's not really pushed the hardware as hard as they could have done and reports that supply constraints are primarily down to Sony keeping production low than the hardware selling in significant amounts are not helping. We're starting to see developers leaning into full length experiences in VR, so it'd definitely be time to see Sony committing to at least one major full length game themselves. A piece of hardware that costs almost as much as the console itself needs more than 15 minute demo-like experiences to have a compelling reason for a sale.
Final Fantasy VII Remake
We know that the
Final Fantasy VII
remake might be in
a spot of bother
, but it's still fairly likely we'll see a bit more of the game at this year's E3. Unfortunately, given the state of the game's development, some hard details about its release seem pretty unlikely now.
Ni No Kuni 2
We can also expect a bit more on
Ni No Kuni 2
, following an announcement by Bandai Namco today that it will be released on the 10th November this year. The release date announcement may have taken the wind out of the sails a bit for any on-stage announcements at Sony's conference, but don't be surprised to see an extended look at the game play of this highly anticipated JRPG.
Digimon Story: Cybersleuth Hacker's Memory
Continuing on with the JRPG theme for a moment, this follow-up to the sleeper hit
Digimon Story: Cyber Sleuth
might get a bit of stage presence tonight simply off the back of the success of the first game.
Cyber Sleuth's
release in the West was a big hit for the
Digimon
series, and that worldwide success is what's played a big part in the development of this sequel. Sony haven't had many genuine competitors to Nintendo's behemoth of
Pokemon
, but
Cyber Sleuth
had a number of components that made it a genuine player for that market.
Destiny 2
Destiny 2
is not a Playstation exclusive, but it will be all-but-guaranteed to have a similar timed-exclusive DLC arrangement on Playstation. As part of that deal, you can expect to see a big push for
Destiny 2
on Sony's show ahead of the game's release later this year. We're certain we'll hear more about why you should buy the game on Playstation over Xbox too – as well as a number of other similar deals on third party games throughout the night.
Horizon Zero Dawn DLC?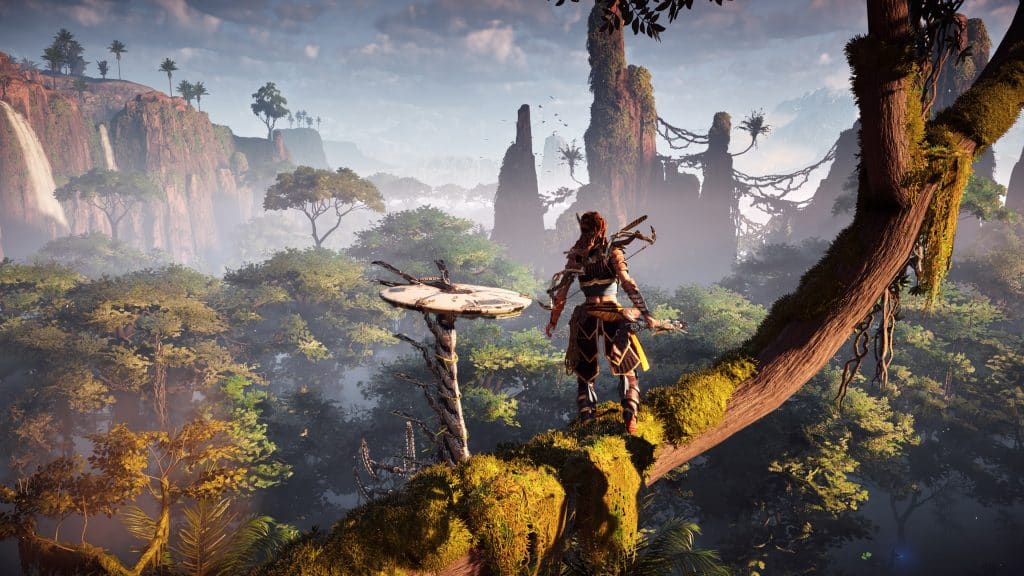 Horizon Zero Dawn
was a huge success for Sony and developer Guerrilla Games when it launched. Unfortunately, about 3 days later, Nintendo launched 
The Legend of Zelda: Breath of the Wild
and, understandably, 
Horizon
got a bit lost amongst the chatter of what is incredibly likely to dominate future lists of "the best games ever made". Horizon was no slouch, though, and a bit of a refocusing of attention back onto it with a meaty expansion would be just the thing it needs to bring attention back to itself. So long as the DLC doesn't release the same week as 
Zelda's
of course…
Price cuts
With Microsoft launching the Xbox One X at a hefty £449, it wouldn't be entirely surprising for Sony to take advantage of the fact they've got a year's headstart on Microsoft to drop the PS4 Pro's £349.99 to be even further below the Xbox One X's tidemark. Perhaps even more likely is a drop in the PS4 Slim's £249.99, especially as a price cut for the Xbox One S is inbound.
Sony's got a lot to be positive about this year. Not only is the Playstation 4 outselling the Xbox One in a big way – but 1 in 5 of all new PS4s sold are now PS4 Pros, proving that their mid-generation upgrade gamble has paid off. This year, their big focus will be on software. There's already a heavy slate of games announced for this year – which are sure to take up most of the show's time, but can Sony make those numbers even more impressive with some last minute reveals?