It was one of the most consistently popular games at this year's EGX, but despite it all, we finally got to go hands-on with next year's Avengers game for the first time.
Marvel's Avengers, a joint project between Eidos Montreal and Crystal Dynamics – the Deus Ex and Tomb Raider teams – brings Earth's Mightiest Heroes together in a modern action game for the first time. While comparisons to last year's excellent Spider-Man title, as well as Rocksteady's blockbuster Arkham series are obvious, Avengers takes things a step beyond by giving you control over six playable characters throughout, rather than just one.
In the 'A-Day' demo that we were able to play on PS4, we got to see how exactly one goes about building an action game around six very different characters. Throughout what is actually the game's introductory 'tutorial' level, you'll get the opportunity to take control of all five core Avengers: Thor, Iron Man, Hulk, Captain America and Black Widow.
Each character is quite faithfully translated from their comic and movie counterparts into being a video game protagonist. The lead combat designer for last year's God of War, Vince Napoli, has taken the reins for Avengers and nowhere is that more apparent than in how Thor plays. Kratos' axe-throwing gameplay was practically an audition for this game. As well as smacking baddies around with Mjolnir and zapping people with lightning, Thor can throw his hammer to pin people against walls and then choose to manually recall it in much the same, incredibly satisfying, way as Kratos' axe works.
While Thor is very much a hands-on brawler type character, Iron Man decidedly is not. While he can toss a punch when needed, it's quickly apparent that he's at his most effective when blasting opponents from afar. If Thor's gameplay is most familiar as button-bashing brawling ala God of War, then Iron Man's is closer to being a third-person shooter.
In the A-Day level, at least, Hulk's gameplay focuses much more on traversal than combat. A sort of basic, Tomb Raider-style, 'platforming' sees Bruce Banner's angrier alter-ego leaping around the collapsing bridge the battle is taking place on. Much like Crystal Dynamics' Lara Croft games, things you can jump to and from, wall run against, etc, are marked up consistently, while still being very much a natural part of the world's design. Trucks with scratched up sides are for wall running against, identical sections of the destroyed bridge indicate where to make your running leaps from and so on. Hulk's still very much about smashing, of course, but it seems wise to make getting around the world the real challenge for a character as powerful as Hulk. So little a challenge is posed by the mercenaries that make up the foes in this level that much of Hulk's combat involves simply hitting them with each other.
Black Widow's combat meanwhile, is much more hands-on and focuses on making quick beatdowns and grappling with her foes. Of all the characters, she's the closest in style to Batman and Spider-Man. In the demo, she gets to put these skills to work against Taskmaster – a former SHIELD agent with the uncanny ability to learn an opponent's fighting style so perfectly he can use it, or others he's learned, against them.
This unique challenge from Taskmaster – one of several villainous 'boss' battles set for the final game – also forces Widow into having to react to specific moments of weakness in his attacks – indicated by a green reticle over him – to successfully counter and wrestle him to the ground. Whether this is a consistent part of Black Widow's combat, or unique to this specific fight, will remain to be seen.
Finally, Captain America combines Black Widow's aggressive, but measured, hand-to-hand combat with Thor's hammer-throwing in the form of his trusty shield. In this case, Cap's entire schtick is always throwing his shield in such a way that it will bounce back to him, rather than needing to call it back like Mjolnir. It's still very satisfying to watch the shield bounce off the walls and back to you after clunking against a bad guy's head, though.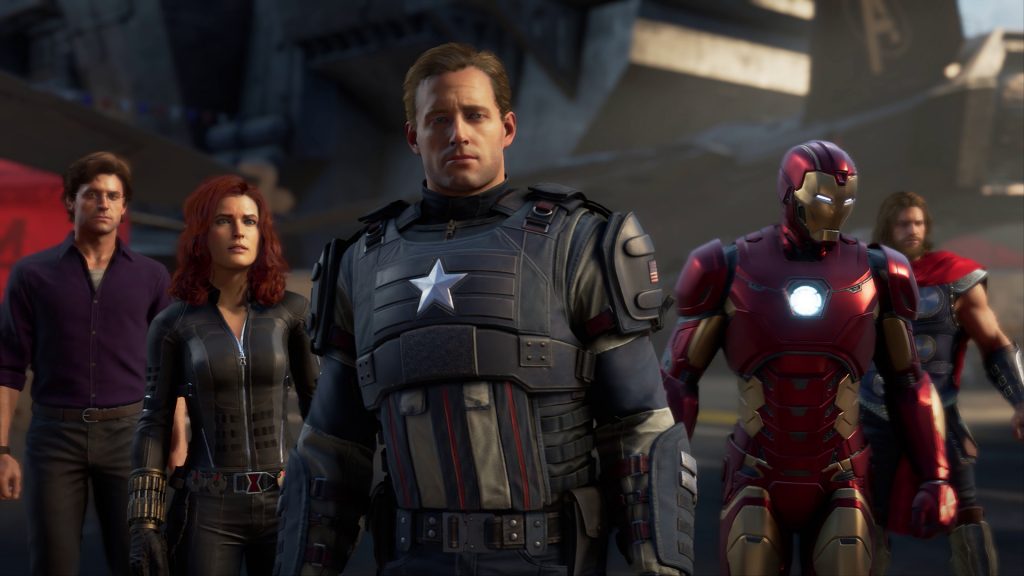 For all their differences, though, each character is quite simple to pick up and play when their turn comes up. The same buttons translate to the same, or similar, actions across all five characters. Everyone has some form of a projectile attack, triggered using traditional shooting controls of the back triggers. Thor and Cap throw their weapons, Iron Man and Black Widow have guns, and Hulk grabs a chunk of the ground and tosses it.
Standard and heavy attacks are also pretty much the same for everyone. There'll be different combos and of course, very different effectiveness between a punch from, say, Iron Man and a blow from Hulk's mighty fists, but no matter which character you're playing as, you can always immediately jump in to battering the baddies.
Dodging and jumping make up the rest of the main button inputs. Characters like Thor and Iron Man can fly by double jumping, and characters like Black Widow will rely much more on dodging than characters like Hulk. Finally, charged special attacks are available on the L1 and R1 bumper buttons. For example, by pressing R1, Thor can summon up a tornado using Mjolnir, and then unleash a powerful lightning zap on the foes he's caught up in it. These special moves, in particular, will be the first major focus of player customisation throughout the game.
That intention for large-scale player customisation is very much at the heart of much of Marvel's Avengers. Scot Amos, studio head at Crystal Dynamics, explained to us during the show that the intention throughout – as you, via Kamala Khan, work to reassemble the Avengers following the destructive events depicted in the demo's A-Day level – is to remake these characters in your own image and style. While each character will have their own defined abilities based on the iconic heroes they are, you'll still be able to mould their skills to suit your personal play style. If you want to play Thor as a primarily ranged attacker, you can build his skills in that direction, rather than focusing on his brawling abilities.
Beyond their attacks, though, each character will also receive a generous amount of customisable outfits. While Crystal Dynamics have gone to considerable effort to make their own looks for each of these characters – separate from any specific comic or movie iteration – they also want to give you the chance to style your heroes to match your favourite interpretation. Some of these outfits are unlockable in-game, but Amos confirmed that the plan is to release a lot of these costumes as microtransaction DLC following launch.
Those costume microtransactions are balanced out, however, by a commitment to "years" of entirely free content updates. This will see new areas, large War Zone missions that can be played with up to three other players and more playable heroes added to the game for no additional cost.
How exactly those War Zone missions play is something we've yet to see, but we did get a short explainer on the basic structure of the game. Hero missions, like the A-Day level in the demo, are quite linear story-driven affairs. Most of these will also see you picking up multiple characters throughout. These are single-player only levels and will tell the game's main story of the fall and rise of the Avengers.
The destroyed Helicarrier that the Avengers make their new home-base out of for much of the game is also used as a hub world for managing your growing team, interacting with the heroes you've unlocked and a global tactical map for deciding on the next mission to undertake.
Hero Missions and War Zone missions alike appear on this map, so jumping into the game's 1-4 player co-operative missions is kept seamless, rather than being a separate mode. Whether playing alone, with randoms or with friends online, these levels will see you picking one of your unlocked characters – or any one of the post-launch characters – to take on a more open map with several objectives. These missions are still narrative-led, though. The missions launching with the game feed back into the main story, while later War Zones will expand the story and world of Marvel's Avengers.
The on-going, building narrative after launch and the downloadable cosmetics certainly give Marvel's Avengers a shade of Fortnite about it, which seems to have coloured expectations over the War Zones themselves. But these levels sound like they're much more along the lines of the A-Day demo we played than, say, a Battle Royale. You can choose to solo these War Zones if you want, after all.
Instead, the plan for Avengers seems more familiar as a formerly fellow Square-Enix title: Hitman. IO Interactive has made a business model out of consistent content updates for both their rebooted Hitman releases. In their case, they come as a mix of free and paid content, but Avengers perhaps has the luxury to be more generous. We hear Marvel's not short of a few quid after this summer, after all.
Although the demo was quite brief, we definitely enjoyed what we played. Each character feels great to jump into the boots of and in fact this opening level perhaps spoils you for giving you so much of that upfront. Rebuilding and reshaping each Avenger around your own playstyle should go a long way towards opening that feeling back up, though.
The combat and camera controls are certainly not 100% there in the build we played. A lack of any camera lock-on to the enemies can make targeting them somewhat fidgety, and the close-quarters brawling currently feels quite staccato – stop/starting in between combos. There's certainly time for that to be tightened up before May, though.
More concerning was how rough the game looked at times on what we believe to be a base PS4. There's a lot of aliasing, some very questionable hair physics and a real struggle to maintain a consistent frame rate.
The actual models and textures are fine, but there are plenty of signs that this game just isn't made with current consoles in mind. With DLC plans stretching beyond 2021, the expectation seems to be that most players will ultimately be PS5 or Xbox Scarlett owners. The mid-step Xbox One X and PS4 Pro systems should probably fare better, but for the millions of original PS4 or Xbox One owners, there's an unfair implication that this experience just isn't made for them.
Hopefully, that isn't the case by the time the game launches on the 15th May next year. On the grounds of this demo, there's certainly a lot to be excited for. If you've enjoyed Rocksteady's games or 2018's Spider-Man, Marvel's Avengers looks to be an ambitious evolution featuring characters long overdue some gaming spotlight. Just so long as it isn't so ambitious, they can't live up to it…