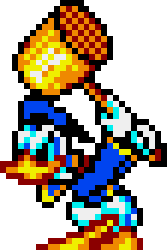 It only feels fitting to start this series with what is, sort of, my first ever console game. On my fifth Christmas in this world, I received a present that would immeasurably shape my life: a Sega Master System.
Loaded onto the system as a built-in game (a feature that is somehow still uncommon even in today's world of digitally delivered content) was the Master System version of the first Sonic the Hedgehog game.
I also received two boxed games. The first, Line of Fire, was a top-down shoot-em-up of sorts that honestly didn't hugely appeal to five year old me (though my Dad loved it). The second, though, The Lucky Dime Caper Starring Donald Duck (yes, that's the actual full name), was a game that I very quickly fell in love with.
What is it?
Born from a golden era of collaboration between Sega and Disney, The Lucky Dime Caper is a rock-solid character platformer that continues to stand up for its sheer playability.
There are seven stages in the game: the Northern Woods, the Great American Forest, the Andes Mountains, the Tropical Isles, the Pyramids, the South Pole and Magica's castle. By the end, Donald ultimately faces down Ducktales antagonist Magica De Spell after she steals Scrooge McDuck's Lucky Dime and kidnaps Huey, Duey and Louie.
The game's first three levels can be tackled in any order. Selected on the map by poking one of Donald's abducted nephews in the face with a massive arrow.
Once the triplets have been rescued by defeating each stage's boss, the next three levels can again be tackled in whichever order you like. Recovering the children's own lucky dimes bestowed to them by Scrooge at the start of the game. Then, finally, setting out to rescue Scrooge's dime from Magica herself.
Donald's primary form of attack throughout each level is a trusty oversized mallet, but there is also a frisbee weapon that can be picked up from defeated enemies.
If Donald takes a hit while holding either of these weapons, he'll lose it and will have to resort to jumping on enemies instead – something that is easier said than done in this game. Despite its cute appearance, the game actually has a surprising level of difficulty to it.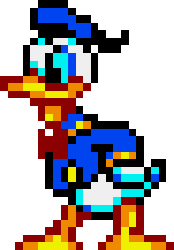 While most platform game enemies will simply wander towards you to die, almost every enemy in the game has somewhat slightly more irregular attack pattern. Bees will back up if you swipe at them, before coming in for the sting, the sentient mushrooms will dive off into the background, etc.
You can learn these patterns quickly and easily, of course, but it adds a lot of time to what would otherwise be a short game. In fact, despite playing this game a lot as a child, the number of times I've ever completed it (or even gotten as far as Magica's Castle) is pretty low. But then, I might just have been rubbish (and might still be).
Should you play it?
The game has a fantastic look and feel to it throughout. Flattering the Master System's capabilities with a bright, colourful and thoroughly Disney-style presentation.
The soundtrack hits a lot of nostalgic notes for me personally, but there's not really anything to shout about otherwise. Fortunately, the gameplay more than makes up for that.
Although rarely hitting above its weight as a basic action platformer, there's enough challenge to each of the game's levels to keep you going. But, without being so punishing as to make progress so slow and frustrating as to not be worth it.
Disney and Sega's relationship bore a lot of incredible fruit during this early 90s period. While Mickey Mouse's Castle of Illusion often stands out as the (well deserved) leader of that pack, I'll always have a softer spot for The Lucky Dime Caper.
Objectively, Donald's adventure here is a little bit simpler a game. So it'd be pointless to suggest that it is actually a better choice between the two. But, don't let that be a reason to skip this game entirely. It's worthy of a little attention all of its own making.
Can you play it?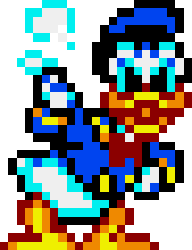 One of the significant downsides of the close relationship between Sega and Disney that led to games like the Lucky Dime Caper is that it ties these games up in long-since-expired licensing deals. Unfortunately, this shuts down most chances of any kind of official re-release.
Aside from a cut-down GameGear version of the game, the Lucky Dime Caper has never seen any kind of port or digital download release.
But, the inclusion of the Castle and World of Illusion games on the Sega Mega Drive Mini is a positive sign that – if a Master System Mini eventually follows – the Lucky Dime Caper could potentially see the light of day again there. Until then, you'll likely have to settle for either buying the actual Master System cart or emulation.
The good news is that the game's quite readily available on eBay for less than a tenner, a price it is well worth. You might just have to throw in an extra £30 or £40 to get a Master System as well if you don't happen to have one knocking around already…