Our road to RDR2 continues with this Western classic – GUN. Look, we didn't name it, don't look at us.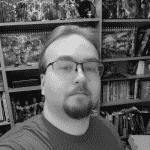 Alex is the founding editor of GameCrash, as well as the founder and owner of one of the UK's most popular and most creative Pokémon fansites, Pokecharms.com.
When not playing or writing about video games he works full time as a Senior Digital Developer making websites not unlike this very one!
Alex's favourite game franchises are Pokémon and Sonic the Hedgehog.